Posted On Feb 23 2018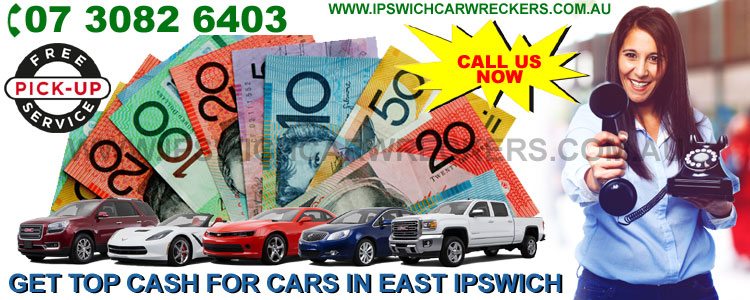 Ipswich Car Removal Service & Cash For Old Cars Upto $9999
Unwanted car occupying valuable space? Get Cash For Cars East Ipswich by selling the unwanted vehicle to us. We are cash for Car Company providing the services your area. We buy all vehicles and pay top cash for junk cars.
Car Buyer East Ipswich
We are a well-known Car Buyer in Ipswich. We buy all kind of vehicles irrespective of the make, the model, and condition of the vehicle.
American, Japanese and European make car are more popular and therefore, Ipswich Car Wreckers deal with them on a daily basis.
Also, models such as UTEs, SUVs, Vans, trucks, jeep and 4wds are more prominent than others. However, we buy all models of vehicles.
Furthermore, the condition of the car is not a problem with us. We buy damaged, accidental, wrecked and dead vehicles apart from unregistered, unwanted and useless vehicles.
So, if you are looking to sell old cars for cash, call us today.
Car Wreckers East Ipswich
Car Wreckers East Ipswich plays an important role in keeping the surrounding clean and environment pollution free. We buy a car and treat them as per their current condition. However, all our methods of disposal are environmental-friendly.
Our methods include
1. Resell – When the vehicle that comes to us is in usable condition, we touch up the exteriors and interiors. And then we sell it on the pre-owned market
2. Reuse – If the vehicle is damaged and unsuitable for further driving, we take it apart and remove the parts that are reusable. We refurbish such parts and sell the reusable parts at affordable price
3. Recycle – And if the vehicles are completely destroyed with no scope of salvage, we crush it and recycle the metal to use it again.
Therefore you can sell your cars for cash to us and contribute towards nature preservation.
Car Removals East Ipswich
We have a great team for Car Removals East Ipswich. Car removals Ipswich are an integral part of vehicle disposal system. What makes us different from others is that we have the necessary equipment for vehicle removals of any size and condition. Whether it's a passenger car, a truck or a huge commercial vehicle, we have the necessary equipment. Also, whatever may be the condition of the car, nothing is difficult for us.
Also, we have team of trained professionals for specific equipments, who undergo regular training to keep abreast of new operating systems of our machines.
Furthermore, we are very diligent about the safety of our clients and team members. We, therefore, follow all safety rules; take safety precautions to ensure your safety.
Sell My Car East Ipswich
If you have ever wondered about when to Sell My Car East Ipswich, let us inform you about the popular reasons for selling a car.
1. The Car is damaged in a road accident
2. The Car is wrecked during natural calamities
3. The car is dead and useless
4. You no longer need the car model
5. The car needs frequent maintenance
6. The cost of repairs are more than the value of the car
7. You are need of some quick and easy cash
These are some of the regular reasons why people sell their cars. You can also sell your car and get cash for damaged cars, cash for unwanted cars, or cash for accidental cars.
The selling Process
We have an easy selling process compared to other companies who buy cars for cash.
1. The Quote – When you approach us with the vehicle information, we provide you the quote instantly. You need to accept the quote to proceed further.
2. The inspection – Once you accept the quote, we conduct a physical examination of the vehicle and then make you an offer.
3. The done deal – On your acceptance of the offer, we arrange for your car removal and make the payment at the same time.
So, in three steps you not only get to junk cars for cash but also get hard cash.
Contact us
We have an easy and convenient way to communicate. You can choose the option of contacting us that suits you the best.
• Phone – You can call us on 07 3082 6403. Talk to our team to get instant no-obligation quote on your vehicle
• Email id – Alternatively, you can write to us at

[email protected]

with your vehicle details, and we will revert with the quote.
• Website – Additionally, you can also visit us at IpswichCarWreckers.com.au/contact-us/ and fill up our online form with details such as the make, the model and year of manufacturing of the car. You will receive cash for cars online quote instantly.


Remember, we buy cars for cash so call us now and get cash for used cars!