Posted On Mar 11 2018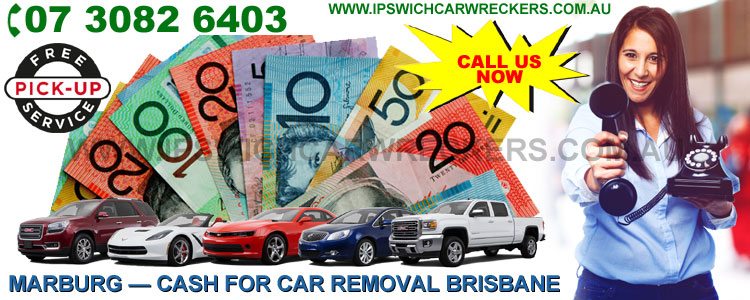 Get Top Dollar Cash For Junk Cars in Marburg QLD 4346, Australia Upto $9999
Cash For Cars Marburg is a right way to get rid of an unwanted vehicle. An old unwanted vehicle is a sore sight. It also will cost you money for removing it from your premises. And most of the time the vehicle is not even worth the value of removal. So, selling cars for cash is the most beneficial choice. You not only get free removal service but also receive cash for the junk car.
Car Buyer Marburg
We are Car Buyer Marburg for more than two decades. We buy all sorts of vehicles.
We buy American, Japanese and European make of car at top price.
Ipswich Cash For Cars buys models such as SUvs, Sedan, Hatchbacks, UTEs, cars, Vans, Trucks and all sorts of commercial vehicles without any condition.
Furthermore, Car Buyers Ipswich buy vehicles that are in deplorable condition. Damaged, wrecked, ruined, deteriorated, old, unwanted, dead, unregistered, scrap or junk, we buy all such cars. We also pay highest cash for junk cars, cash for used cars, cash for damaged cars, cash for unwanted cars, and cash for accidental cars.
So, sell old cars for cash to us today.
Car Wreckers Marburg
Can you imagine a world without Car Wreckers Marburg? It would be full of unwanted junk cars polluting the air and the surroundings. Well, with us around you don't have to worry about that scenario.
We not only buy unwanted vehicles, but also dispose them of in an environmental friendly manner. As per the condition if the vehicle, we reuse, recycle or resell the vehicle.
Spare part is a necessary business for upkeep of the cars performance. We use parts from old cars and sell them at an affordable price. We house used spare part for all makes and models of the vehicles. You need a quality part at good price call us.
ipswichcarwreckers.com.au also sell pre-owned vehicles. The vehicles that are still road worthy are ideal for reselling. So, we repaint and resell such vehicles.
And lastly, if the vehicle is smashed beyond recovery, we crush it and recycle the metal.
So, you see with us around, world is much cleaner place.
Car Removals Marburg
Car Removals Marburg is one of the costliest parts of car disposal. Sometimes one doesn't have that kind of money and at other times the vehicle is not worth the cost. However, we offer free car removal for all kinds of vehicles and in whatever condition they may be in.
We not only remove the vehicle but also pay top cash for junk cars. So don't wait any longer, call us today to junk cars for cash or scrap cars for cash with us.
Car Removals Ipswich QLD are very stringent about safety aspect while removing a vehicle. We have machines in good shape, have a well trained staff and a safety rules in place to ensure that no damage happens to you, your property, and your vehicle and also to our team members while removing a vehicle of any shape, size and condition.
Sell My Car Marburg
If you have decided to Sell My Car Marburg, you have reached a right place. We have an uncomplicated process to ensure speedy and easy closure by paying cash cars for sale. So, go through our process to know how to proceed.
First share your vehicle information to us. We will give you our famous no-obligation quote on the spot. If you accept the quote, we arrange for physical check of your vehicle.
Once we are happy with the assessment, we make you an offer on your car. Mostly our offer is unmatched by any other car wreckers. If you give your consent to the offer, we schedule a pick up.
We complete the necessary paperwork and come for vehicle pick up as per schedule. And at the same time, we make the payment as per the agreement.
There are no hidden costs, sudden expenses or any deductions on the amount that we offer. So, get rid of your cars for cash with us.
Where to reach us
It is very easy to get in touch with us.
You can phone us on 07 3082 6403 and share your car details. We will give you on the spot quote as per the information you give us.
You can also drop us an email at [email protected]. Mention you car details such as the make, the model, the age and the odometer reading to get your quote on the vehicle.
You can also visit our website IpswichCarWreckers.com.au/contact-us/. Once you open our site you will get an online form asking for your vehicle details. Fill up the form with relevant information and you will receive your cash for cars online quote instantly.
Therefore, don't wait long to make a decision to earn fast cash for cars by calling us who buys used cars for cash

Marburg QLD 4346, Australia
Useful Links