Posted On Feb 27 2018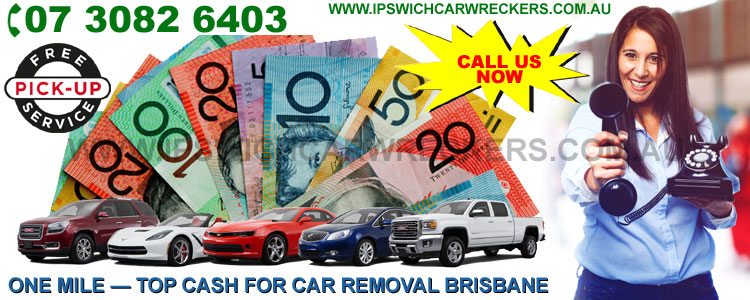 Cash For Cars in One Mile: Cash For Old Car & Used Cars
Want fast cash for cars? Call us, one of the best Cash For Cars One Mile. We buy all kinds of vehicles. We deal with American, European and Japanese make vehicles on a daily basis. Also, models like UTEs, Vans, SUVs, and trucks are more common than other models that we buy. We pay cash for used cars, cash for damaged cars, cash for unwanted cars, or cash for accidental cars. As you can see, we are not particular about any make, model or the condition of the car.
What makes us the best Car Buyer One Mile?
There are many reasons that make us an Ipswich no. 1 Car Buyer in One Mile. Few distinct reasons are mentioned below
We have an easy and time-saving process to buy cars for cash One Mile
We pay top cash for junk cars
We have flexibility of buying vehicles of all makes and models, irrespective of the condition
We have option of same day vehicle removal and cash payment
We give free no-obligation quote. You can walk away even after getting quote from us, without paying any fees.
We provide free vehicle removal services on deal finalization
We complete all the necessary paper work without charging our customers anything
We are an accredited and proper license holder company
We follow eco-friendly method of disposing of the vehicle
We observe strict adherence to safety rules
Therefore, if you are looking for cash for cars One Mile service provider, call us today.
Car Wreckers One Mile
Is an unwanted vehicle occupying your valuable space? It is time to get rid of it with the most renowned Car Wreckers One Mile. We are part of car wrecking business for nearly two decades. And Ipswich Car Wreckers understand that you want to know what happens to your vehicle after you sell it to us. Well, as per the condition of the vehicle, we decide on our course of action.
If the vehicle is suitable for re-selling, we prepare it for the market by replacing the gas, coolant and other liquids. And touch up the paint before putting up on the second hand market.
If the vehicle is damaged and unsuitable for further driving we dismantle the vehicle. Before we dismantle the vehicle, we take proper care to dispose of the liquid components such as diesel and coolant to ensure safety. Next we open up the vehicle to check the parts that are suitable for reuse. We refurbish the reusable parts and sell them as spare parts.
We have wide range of spare parts. All of them undergo quality check to ensure no faulty part enters the market. Also, we sell them at an affordable price. So, next time you want a quality used spare part for low price, contact us.
Lastly, if the vehicles are beyond saving, we crush them and recycle the metal for further use.
Thus, you can be rest assured that when we buy cars for cash One Mile, we ensure proper disposal as well.
Car Removals One Mile
Why worry about car removing cost, when you have the best Ipswich Car Removals in One Mile! We are a reputable car removal company with great customer-centric approach. We have the necessary manpower and the equipment to give you safe car removal services at a date and time suitable to you.
So, next time you decide to scrap cars for cash One Mile, talk to us.
Sell My Car One Mile
We can help you take the final step if you are stuck at should I or should I not Sell My Car One Mile. If your car damaged, wrecked, dead or unwanted than selling such cars for cash makes sense for below-given reason.
Free up the valuable space in your garage or yard
Contribute towards conservation of nature by opting for eco-friendly way of disposing of vehicle applied by us
Earn easy and quick cash form comfort of your home
With us, you need not incur any expense pertaining to selling, car removals or the paperwork.
Tension and hassle free removal of damaged and scraped vehicles
No need to search genuine buyer or bear any expense to get rid of the unwanted vehicles.
Where can I reach you?
We are just a phone call, email or a click away from you. To connect with us you can call us on 07 3082 6403. If you provide the vehicle details, our team will give an instant quote on your vehicle. To know more about Transport and motoring Rules.
You can also drop us an email at [email protected] mentioning your vehicle details about the make, the model and the age. We will revert with suitable quote at the earliest.
Or to fill up an online form to get cash for cars online quote, visit us on IpswichCarWreckers.com.au/contact-us/
One Mile QLD 4305, Australia