Posted On Mar 06 2018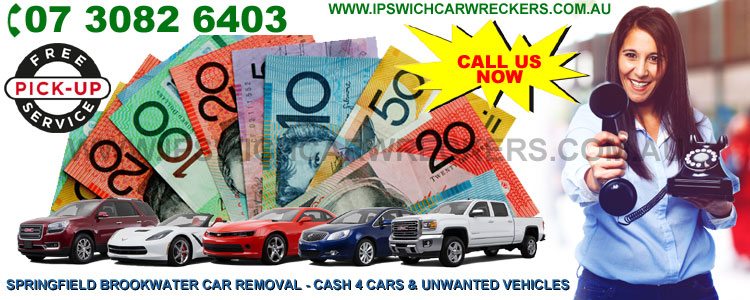 Springfield Brookwater Car Removal Service & Cash For Old Cars Upto $12999
Don't get stuck with an unwanted vehicle. Opt for Cash For Cars Springfield Brookwater services with us today. The Unwanted car creates lots of unnecessary pressure as long as it occupies the valuable space in your garage. You constantly think how to sell, how much I will get, will I get the best possible price. So, when you chose Ipswich car wreckers to deal with your unwanted car, you let go of the worry, the question and the uncertainty.
Why choose Ipswich car wreckers as your Car Buyer Springfield Brookwater?
Often selling a car can be strenuous affair even with the car wrecking companies. However with second hand car buyers Springfield Brookwater like us, you are tension free from the minute you make the first contact. Following are the advantages of working with us
1. You receive instant free no-obligation quote with your first call itself.
2. Efficient team members explain you the further process without any pressure to complete the deal.
3. If you agree with the vehicle assessment, we try and close the deal on the same day or within couple of working days
4. We complete all the paperwork without any charges to you
5. We give free vehicle removal services of the vehicle that we buy
6. We ensure you get fast cash for cars Ipswich by making instant payment
7. We guarantee no damage to the property or the vehicle while towing away your vehicle
8. We have the necessary license and approval making every deal with us a legitimate one
So, choose us, choose stress-free selling of your unwanted car.
Do you really provide Car Removals Springfield Brookwater for any vehicle?
We have over two decade of experience as Ipswich Car Removals Springfield Brookwater, and there are no make or the model of the vehicles that we haven't bought.
We buy all make and models of the vehicle such as American, Japanese, European vehicles with all models of SUVs, UTEs, Vans, cars, trucks and commercial vehicles to name the few.
Also, we buy cars for cash in any condition. The condition of the vehicle doesn't stop us from buying the vehicle. Over the years we have paid cash for used cars, cash for damaged cars, cash for unwanted cars, cash for accidental cars. Apart from these, we have also bought junk cars for cash and scrap cars for cash.
So, yes we really buy vehicles of all types.
When to Sell My Car Springfield Brookwater?
To know when is the time right for you to decide to Sell My Car Springfield Brookwater, read our list of common reasons for selling the car
1. Car is old and no longer needed
2. Car doesn't meet the requirement and need to buy new car
3. Car is damaged or wrecked in an accident or during a natural calamities
4. Car is rusted due to not being used for a long time
5. You need to move, relocate and cannot take the car with you
6. You need cash for personal reasons
7. The car is high maintenance and needs constant repairs
8. The repairing cost is higher than the value of the car
Or any other reason that are specific to you. We assure you, whatever be the reason, we are ready to buy the car from you for cash. Don't wait anymore and call us now.
Why you need Car Wreckers Springfield Brookwater?
Car Wreckers Springfield Brookwater not only helps us in getting rid of an unwanted vehicle but also ensure that our surroundings are clean from the metal waste. It is car wrecker's responsibility to remove the vehicle from the premises and dispose of in an environmental-friendly manner.
At ipswich wreckers- cash for cars, car removals ipswich qld, we are very conscious of our role and are very stringent about how we dispose of the vehicle. As per the car's condition we decide on one of the three suitable option of disposal namely resell, recycle and reuse.
Whatever method we chose, the final benefit is that we keep the area clean, reduce the burden on the natural resources and recycle the metal waste to create zero waste from the unwanted vehicles.
When we come across the vehicle that is still good to drive, we resell it in the pre-owned market after the necessary touch ups. This is our reselling method.
When the vehicle is broken or damaged but the internal parts are unharmed, we dismantle the vehicle and reuse the parts as spare parts.
And the third category of recycle is for vehicles that are beyond salvage. They are no longer road worthy nor are their parts reusable due to severe damage or technical problems.
Thus, we give back to society and to the environment through our resell, reuse and recycle method of vehicle disposal.
Reach us
You can reach us through
Website – IpswichCarWreckers.com.au/contact-us/
Phone – 07 3082 6403
Email – [email protected]
Springfield Brookwater QLD 4300, Australia