Posted On Mar 07 2018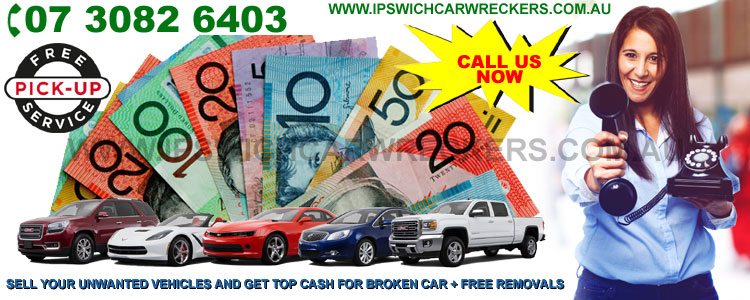 Avail Cash for Broken Car Removals Upto $12999 + FREE Towing
Keeping a broken vehicle at home is useless and futile exercise. Why store it when you can get Cash for Broken Car Removals? Getting rid of the car, especially a broken one is not an easy task. Even if you are willing to bear the cost of advertising, towing and paperwork, getting a buyer is next to impossible. But with Ipswich car wreckers, you don't have to worry about any of the above-mentioned problem. We will not only buy your car but also pay you top cash for junk cars.
What makes us the best Broken Car Buyer?
Due to high demand, there are large numbers of broken car buyers Ipswich available in the market. But what makes us different is the quality of service that we offer
We give free no-obligation quotes to all our customer
We provide free car removal services to all our customer
We complete all the paperwork that too free of cost
We use an automated system to get a correct valuation of your vehicle
We have the latest car removal machines for quick, efficient and safe car removals
We pay the amount as per the agreement
We follow an eco-friendly method of car disposal such as resell, reuse, and recycle
We buy cars for cash, whatever may be the make, the model and the condition of the vehicle
No hidden or surprise cost.
We also offer same day removal and payment option
So, why sell old cars for cash to anyone else? Sell it to us and earn fast Cash for Cars in Ipswich, Queensland
How to sell My Broken Car
If you have decided to sell My Broken Car, contact us. You will realise how easy it is to sell your car to us even in a broken condition. To ensure quick and easy selling of your vehicles we have developed a full proof process.
Steps of selling your junk cars for cash.
1. Chat with us –With our free obligation quote, you are not obliged to sell your car if you are unhappy with the quote. So, even if you just want to know the value of your car, call us with vehicle details such as the make, the model, the age and miles driven. Also, mention any specific details impacting the performance / value of your car.
2. Schedule Car removal – If you accept the quote, we schedule a physical inspection to give you the best possible offer. After the inspection, we make an offer on your vehicle.
3. Close the deal – When you accept the offer, we arrange for car removal date. We complete the paperwork and arrive for car removal on the designated day. Also, we make the payment as per the agreement.
ipswichcarwreckers.com.au buy cars for cash. We have often dealt with American, European and Japanese make vehicles in our business.
We also buy all models of UTEs, trucks, vans, sedan, SUVs, sports car, hatchbacks, passenger cars, 4wds any other type running on the Australian road.
The condition of the car is irrelevant to us. Whether it damaged, wrecked, spoiled, non-working, not road-worthy, old, unwanted we will buy it from you. We have frequently paid cash for cash for used cars, cash for damaged cars, cash for unwanted cars, and cash for accidental cars.
So, you can junk cars for cash or scrap cars for cash with us without any worry of rejection.
Environmentally responsible Broken Car Wreckers
Vehicles are bound to get damaged in its life time. Depending on severity of damage, you can either repair it or get rid of it. It is best to sell a broken or a damaged car to environmentally responsible Broken Car Wreckers like us to ensure that you get money for a useless car and you save the environment.
We meticulous in taking care of junk or a broken car. If the broken car is a scrap, we crush and recycle the metal. There are companies who buy recycled metal to make new products.
On the other hand if the car has faulty parts or is causing pollution in the air, we dismantle such cars. We remove the parts that are usable and sell them as spare parts.
And sometimes, a car with little repair may become roadworthy again. We sell such vehicles as pre-owned at an affordable price.
Therefore, whatever step we take, we ensure no metal waste ifs left untreated and reuse the vehicle and the parts to lessen the burden on the natural resources.
Our contact details in case you decide to get rid of your unwanted vehicle
Our contact details are as follows:
1. Phone number – 07 3082 6403
2. Email id –

[email protected]

3. Website – IpswichCarWreckers.com.au/contact-us/
Contact us now for the most beneficial cash for cars deals!