Posted On Mar 30 2018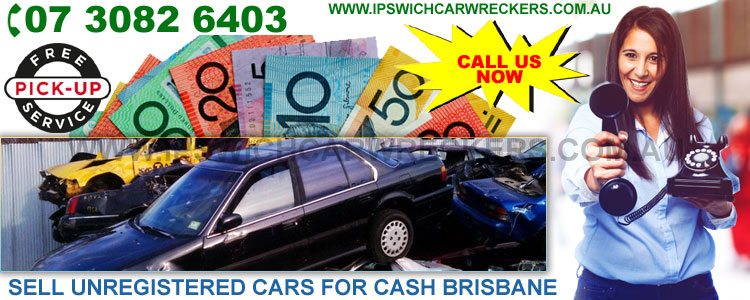 Cash for Unregistered Cars Brisbane
Besides a damaged car, an unregistered car is most challenging to sell. The reason being, at many places unregistered vehicles are illegal, and therefore even the dealing in an unregistered car is illegal. However, with Ipswich Car wreckers, you don't have to worry about getting Cash for Unregistered Cars Brisbane. Car Wrecker in Ipswich have the necessary authority, approvals and licence to buy an unregistered car.
Unregistered Car Buyer Brisbane
Registration of vehicles is a necessary formality. A car when not reregistered with an authorised department or if the registration has expired falls under an unregistered car category. A registered car not only keeps you on the right side of the law in many places but also makes it easy to sell. Furthermore, a registered vehicle will fetch you more money than an unregistered one. So, why lose money with your unregistered car? Call us – the most famous Unregistered Ipswich Car Buyers.
Besides an unregistered car, we also buy vehicles that are damaged, flood damaged, accidental, wrecked, old, unwanted, or in deplorable condition. Call us and get top cash for junk cars. We also pay cash for unregistered cars Brisbane, cash for old cars, cash for unwanted cars, cash for an accidental car, and cash for damaged cars. We also buy junk cars for cash and scrap cars for cash
Furthermore, we buy car for all models of Suvs, UTEs, Vans, trucks and other models available in Australia.
How to Get Cash for Unregistered Cars Brisbane
As an owner of an unregistered vehicle, you have two choices. One is to get it registered and sell privately, or you can call us to get rid of your unregistered vehicle. Getting registration and selling a vehicle is tedious and time-consuming. So, if you decide on 'Sell My Unregistered Car Brisbane' follow our three steps process, and you will get rid of your car in no time.
Call Us –Talk to us and provide necessary vehicle details. Don't forget to mention the unregistered status besides other information such as the make of the car, brand of the vehicle, an age of the car and the readings of odometer for a realistic assessment of your vehicle. We will give you on the spot quote.
Visit from us – If you accept the quote, we plan a physical inspection at a date and time convenient to you. Post inspection, we make a final offer
The offer – If you like and accept our offer, inform us of a date and time to pick up your unregistered car. On the designated day we will come along with completed paperwork to tow your vehicle. We will also pay you the decided amount on the spot.
Also, note that we offer free towing services to all our clients. We also undertake paperwork at no charge to our clients. So, you not only get rid of an unregistered car but Earn fast cash for cars with us.
How does Unregistered Car Wreckers Brisbane dispose of the vehicle
Getting rid of unregistered cars is very difficult and involves complex paperwork. However, with specialised Unregistered Car Wreckers Brisbane, like us, it is effortless. We have the necessary expertise and network to deal with an unregistered vehicle.
So, when we buy an unregistered car, we bring it our workshop. Here we determine the next course of action depending on the condition of the vehicle.
If the vehicle is in excellent condition and we know that we will recover the cost of registration, then we first register the vehicle and then resell it in the pre-owned market.
And, if for some reason, it is not viable to register the vehicle, we dismantle it. After dismantling, we remove the necessary parts, refurbish them and sell them as used parts. We sell quality used parts at an affordable rate.
Additionally, if the vehicle is in a deplorable state, we recycle the metal. There is a high demand for the recycled metal in the market.
Thus, we, resell, reuse or recycle the unregistered vehicle and take care of the unregistered car in the most legit manner.
How to contact Unregistered Car Removals
The nearest Unregistered Car Removals Brisbane is just a phone, email or a website away.
You can reach us via our phone 07 3082 6403 and talk to our team member to receive your no-obligation quote from us.
On the other hand, you can also write to us at [email protected], with the vehicle details and all your queries and we will revert with your answers/quote.
Additionally, you can also visit our website IpswichCarWreckers.com.au/contact-us/. When you open our webpage, you will get our instant offer form. Fill up the form with car details like the make, the model and the age and receive the cash for cars online quote.
Remember to call us if you want to sell old cars for cash.