Posted On Mar 14 2018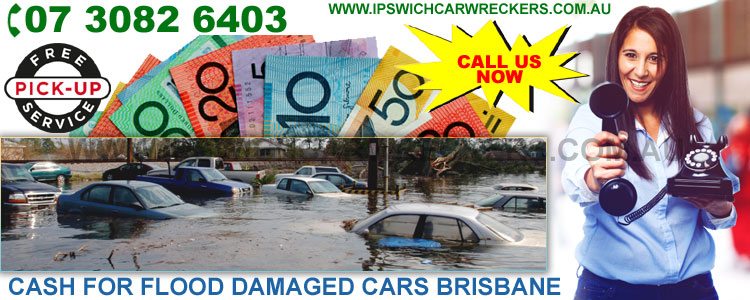 Cash for Free Removal of Flood Damaged Cars in Brisbane Call 07 3082 6403 Now!
Had floods recently? And are we now stuck with the flood-damaged car? Don't lose hope. Ipswich Car wrecker pays Cash For Flood Damaged Cars Brisbane. Vehicles are usually least of worries when we face natural calamities of any sort. However, in the aftermath, dealing with vehicle damage is one of the most tedious works. However, with us in the picture, you can quickly get rid of your car and also get cash for damaged cars.
Flood Damaged Car Buyer Brisbane
Looking for Flood Damaged Car Buyers? Look no further. We buy cars for cash. The make, the model and the condition of the car are immaterial to us.
Natural calamities are unpredictable, and vehicles face damage to various degrees depending on the various factors such as
How long was it exposed to the floods
How was the condition before the floods
Make and the model of the car
Number of days before it was completely dry post floods
How soon was it cleaned if junk and trash post floods?
The longer the exposure to water, sever is the damage to the car. However, we even buy scrap cars for cash, so no matter the damage call us today to make cash from your damaged car.
Flood Damaged Car Wreckers Brisbane
Sometimes, even after the floods, there are no apparent signs of damage, and therefore you may not contact the Flood Damaged Car Wreckers Brisbane in time. The delay may result in rust setting in and can also cause a drop in the value of your car.
Therefore, after the floods check the following to now the damage
Check the car mechanism such as door locks, windows, AC, wipers, and whether the car starts or not.
Inspect for musty odour and damp interiors
Check for water logging in enclosed space such as glove box, ashtray or any other such compartments in your vehicle
Inspect for any blemish or dirt or mud that may have entered the vehicle
Check for seat movement, mobile chargers, CD player, lighter and any other points vulnerable to damage
Inspect thoroughly for rust or corrosion in the car
Check the engine part and the oil. If they have water in it, they might be damaged severely.
Also, take out your car for ta est drive to ensure that batteries, lights, brakes, and accelerator are all working. If you hear any uncommon sound or feel different while driving, it would be advisable to get vehicle checked by a mechanic before declaring it damage free
Even if your car has also one or for that matter all the symptoms given above, don't worry. We will buy such junk cars for cash. Beside flood-damaged vehicles, we also pay top cash for junk cars, cash for unwanted cars, cash for accidental cars and cash for used cars. So, whenever you have unwanted vehicles, call us and sell old cars for cash to us.
Flood Damaged Car Removals Brisbane
Ipswich car wreckers are expert in Flood-Damaged Car Removals Ipswich. Removing a car needs a specific set of skill especially if it is in a weakened condition. Car removal is not only risky and tricky, but also very expensive.
Therefore, if you have a flood-damaged vehicle, you want to get rid of, call us without any delay and we will remove the car free of cost. Not only that, but we will also pay you cash for cars Ipswich.
We have the necessary machine, skilled staff and the vast junkyard. We remove vehicles expertly, without any damage to the property or the vehicles. Also, we are very diligent about safety and adhere to safety guidelines without any shortcuts. Also, a large number of car removal machines help us provide service to a large number of the client at the same time.
Furthermore, with our junkyard, we dispose of the vehicles in an eco-friendly manner. When you sell your car to us, you are assured of nil malpractices and saving the environment.
Sell My Flood Damaged Car, Brisbane
Want to Sell My Flood Damaged Car Brisbane, what should I do? This is the dilemma many people face. If you read our process, it will be more comfortable for you to decide. Remember, we buy cars for cash irrespective of its condition, so no car is damaged enough for us.
Step 1 – Call us with your vehicle details such as the make, the model, the age and the odometer running. Also, briefly describe the condition of the vehicle and the damage due to flood. As per the information, we will give you our no-obligation quote.
Step 2 – You can take time to accept, reject or think over our quote. After you reach the decision and decide to go ahead with us, we schedule a physical inspection of the vehicle. This step is to ensure that the details that we have about the car are accurate. After the examination, we make you the offer on your vehicle.
Step 3 – If you accept the offer, we then decide on a date and time for car removal as per your convenience. We also offer same day car removals. We make the payment on the day of car removal.
Thus, by selling your car to us, you not only get rid of flood damaged car, but also earn fast cash for cars.
Ways to reach us