Posted On Sep 21 2021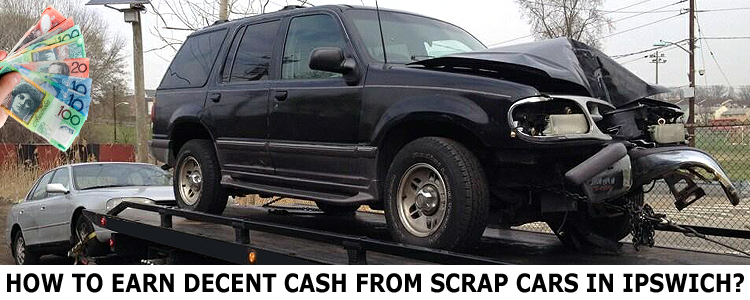 Thinking of fetching some valuable cash out of your scrap car? Don't know how & where to contact in Ipswich? No worries as you are in great need of this blog today!! You will need to approach local cash for a car wrecking company that pays the highest cash for all vehicles. There are several companies that are desperate to pay you the desired amount of dollars instantly. Even if your car's condition is completely damaged i.e., faulty engine or transmission failure, you will earn the big bucks. Isn't it amazing? For Example- Ipswich Car Wreckers is the certified used car dismantlers team that accepts all cars, Utes, trucks & 4wds. We offer cash up to $9,999 & have been working in the auto recycling industry since 2016.
How to Get Quick Cash for Cars Quote from Ipswich Car Wreckers Online?
There are the majority of car owners who would like to speed up the quote-getting process for their cars. For this, we have specially designed our service named "Free Online Valuation In No Time"!! You are just required to fill this form available on our website & then submit it online. One of the team members will be right available for you within few minutes & ask you for some details of your vehicle. The car's information that will be asked is i.e.
Car's Condition
Registration status/year of manufacture
Make & model
Kilometre Driven
Any Wear & Tear
'We'll evaluate your car's details & then offer you cash quotes. On accepting our offer, we schedule free scrap car collection Ipswich wide. No matter where you live in Ipswich, our towing team will reach out to you without asking for a single penny. In simple words, it's going to be a quick car sale, fast cash & hassle-free process.
Why do We Pay Top Cash for Scrap & Wrecked Vehicles in Ipswich?
All cars have some valuable parts in them be it an abandoned, wrecked, or accidental damage, it can make you earn an unbeatable amount of dollars. These all-spare parts can be eco-friendly recycled, refurbished & reconditioned. Furthermore, it can re-sell at affordable prices after the quality-assurance test. This is one of the best options to save the environment & its resources. Additionally, it's good for the one who can't afford expensive new branded auto parts. Here's are some parts that are quite valuable & never let them go in vain.
Bumpers
Tailgate
Rims, Tyres, and Wheels
Catalytic Converter
Battery
Air Conditioning System
Speaker System
Seats
Windows
Doors
Windshield
Starter Motor
Gearbox
And Many More
Get Cash From all Scrap Makes & Models Today!!
We accept all brands, models & ages regardless of any technical fault & condition. With us, it's 100% assurance that you will earn some value from your useless car. Some of the brands we often accept are i.e.
Honda: Accord, Ascot, Civic, Domani, Fit & jazz, Integra, Legend.
Nissan: Avenir, Bluebird, Elgrand, Homy, Primera, Presea, Pulsar, Safari, Skyline, Silvia, Stagea, Sunny, Serena.
Subaru: Petrol or diesel, Legacy, Impreza, WRX, Forester
Audi: A3, A4,
BMW: 316i, 318i, 320i, 520i, 525i, 720i, 725i, 728i.
Hyundai: Accent, Getz, Lantra, Sonata, Tucson, i30, i35, I 40.
Mitsubishi: Challenger, Chariot, Colt, Lancer, Cedia, FTO, GTO, Pajero, Mirage.
Peugeot: 206, 306, 307, 406,
Volkswagen: Beetle, Golf, Polo
Ford: Trucks, transit, Courir, Explora, Escot, Escap, Falcon, Festiva,