Posted On Dec 14 2021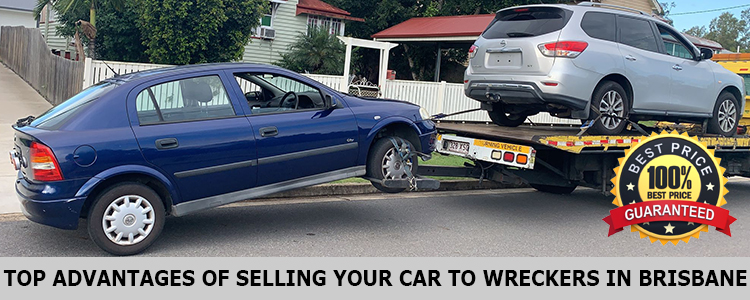 Is a junk car sitting in your garage without a purpose? We suggest you get rid of it as soon as possible. You must not hold onto a damaged or old vehicle. They do not only contribute to the polluted environment but also lose value while they gather dust in your garage. You might as well sell it while it can still get you some money. Selling your car to wreckers has to be the most convenient way to get rid of a junk vehicle. There are plenty of advantages you get when you sell your car to wreckers. Mentioned below are some:
Easy and Quick Car Valuation Online
You do not have to take rounds of the city in search of the best car wreckers. You can look for them online and also get a cash quote with a click. All you have to do is find the best car wreckers near you. Visit their website and see if their customer feedback is good enough for you to go ahead. Once you are completely satisfied with their reputation and services, you can fill out the form on their website to get a cash quote. You can also call them directly and give all the information about your car. This will help you skip the research and easily compare the prices sitting at home.
Sell All Makes and Models of Cars
Car wreckers buy junk cars in order to recycle them. The make, model, type, brand, year, and condition of your car do not matter. Even if your car is completely wrecked, you can sell it for instant cash. You can sell your Trucks, Bikes, Cars, Vans, SUVs, Utes, Buses, and all other commercial vehicles as well. Do not hesitate to reach out to car wreckers if you want to sell your accidental or unregistered vehicles. Just get a cash quote and the rest is their job!
Get a Same-day Car Removal Service
There's no waiting involved when you sell your car to wreckers. It is a quick and hassle-free method of selling your scrap car. Once you get a cash quote, give them a suitable time and your location. A team of car dismantlers will come to you, inspect your car, load it in their tow truck, and transport it to their junkyard. You are not caused any inconvenience during the process. You can be sure that your vehicle is in safe hands and you do not have to run around in order to safely get it out of your garage. The professionals will do it for you.
Get all Paperwork Arranged by your Dealers
All licensed and reputed car removal companies make sure to abide by the laws and regulations of the state. There are some rules you have to follow in order to scrap a car in Brisbane. Your car wreckers will arrange all the important paperwork for you. All you have to do is keep your own documents ready. You will need your identification proof, car ownership proof, car's title, and other car documents. Your dealers will make sure that all the legal formalities are completed.
You Get Instant Cash on the Spot
Sell your car to wreckers and you won't have to worry about your money. You can get instant cash on the spot. When the professionals reach your location, they will inspect your car and if the condition is as you described, you will get all your cash then and there. No trouble with negotiations and no installments. You do not only get top cash for cars but also a free car removal service. You do not have to pay any service charges or hidden fees when you sell your car to wreckers. It is a free car pickup service!